One decade
13.05.2012 7:00 by Admin
---

Dear eMule-Users,

today ten years ago, eMule came to be. A decade . What are ten years in the internet and tech sphere?
Let's see: 10 years and 20 months ago, eDonkey2000 was released. 7 months before eMule, the first iPod hit the stores. 2 years after eMule Facebook was founded and Youtube didn't exist for another year. A decade ago the most used home desktop OS was Windows 98, AOL was a common ISP and mobile phones were used to make calls instead of shooting birds around



So times sure change, but eMule trudges along like any good mule would do. And so we are happy to celebrate its 10th birthday today. It wouldn't have been possible without the support of countless people over the years, starting at you our users to the translators, debuggers, board moderators, modders, supporters, graphic artists and of course the developers who have joined and moved on over the years. Thank you.


How will eMule's journey continue? We hope to continue working on eMule to keep it running and up-to-date. This means for the most part we will fix existing bugs which pop up, make sure eMule works well on new released versions of Windows, implement detail improvements to its core mechanics and interface and react on upcoming events in the Kad network like fighting spam. We do not expect to make many major changes in eMule anymore, like we did when adding Kad because eMule has become a mature software and the development time available is not as plentiful as it was 5 years ago anymore. In this spirit we hope to release the next version in a few months.

So lets look ahead to the next 10 years - after all, mules can get well over 50 years old



Your eMule Team
eMule beta testing
19.04.2008 13:08 by Admin
---

eMule's upcoming version 0.49a is now available as beta version. If you are intrested in helping us testing the new release, you should take a look into the beta section of our forum.

Your eMule-Team


SCA: Bleep-o-mat
13.09.2007 1:39 by Admin
---

SourceForge sent a trophy for the Community Choice Awards. A fairly entertaining one i have to say - as long as it is turned off (!) otherwise it beeps arround all day

Thanks to SourceForge for this nice present and thanks to our users who voted for us - lets just assume our beloved 5 year old eMule was voted as best "new" project because of its innovative, new and convincing features and not as a hint that eMule is not always the fastest working animal out there

eMule on Windows Vista
24.02.2007 14:55 by Admin
---
Microsoft has released Windows Vista and for those reckless enough to use it already with eMule, there are some steps to take in order to make eMule running smoothly on it. This only applies to eMule 0.47c and mods based on 0.47c, later eMule versions will have all of the following issues corrected already and do not need any special attention.
Vista protects the directory where programms are stored against unauthorized write access and redirects any write access to a virtual directory. This applies to eMule because currently its configuration files as well as downloads are stored there, so you might have trouble finding your downloads later. The easiest solution for now is to install eMule into a seperate directory, not located in the default programm folder. So if the installer suggests "C:\Program Files\eMule" change it to "C:\eMule" for example.


After installing, you need to correct one setting which eMule will not set properly on Vista. Run eMule, open the Options page, select "Extended" and then change "Max. half open connections" from 50 to 9. This is quite important.


On some themes you won't see the minimize to tray button. You can still minimize eMule to the tray bei either selecting this option from the system menu (the icon on the left side) or select on "Options" => "Display" the "Minimize to tray" setting, which will move the action to the standard minimize button.
If you followed those hints, you should be able to enjoy eMule on Vista without any problems too :) In case you find any new Vista related bugs, feel free to point them out in our bug forum.
Your eMule Team
Merry Christmas and a Happy New Year
23.12.2005 23:16 by Admin
---
We wish all eMule users (and of course everyone else too) a Merry Christmas and a happy New Year
. We are looking forward to eMule's 5th year of existence and hope for many - not that many - new versions. Well we will not only hope but also work on it, so be prepared to enjoy another year with a faithfull Mule running (and sometimes walking) on your PC
Your eMule-Team
eMule Cuddle Toy
21.03.2005 16:31 by Admin
---
Dear eMule users,
eMule lifes for nearly 3 years now in its digital world and faithfully carries out its work on millions of computers to make its users happy. We felt it is time to help it to discover the real world with all its pleasures - like sitting arround and cuddling with its owner. And so we did.
A small number of eMules were created - each of them handmade with love - and are now anxious waiting to find a new home.
We think this is a good opportunity to thank all those, who invest their time to support this project without any material reward. Therefore we will sent one free exemplare to every active longtime debugger, forum moderator and translator of eMule or its helpfiles. We know that they will take good care of their eMule.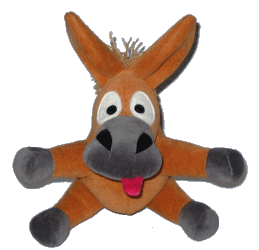 Everyone else will be able to order one in our european shop. Currently it supports only german as language but this will be corrected within the next month. However in case you manage to grab bablefish and translate the few words, the shop delivers into all european countries. American users will be able to order one in a different shop very soon too - we will provide a link here as soon as it is availble.

Update: Sorry, but all eMules already found a new home (sold out), only the US shop still has a few eMules waiting.
Your eMule-Team
eMule and Windows XP SP2
16.08.2004 22:06 by Admin
---

Microsoft released the Service Pack 2 (SP2) for Windows XP a few days ago, which will be distributed via the Windows Update within the next days. The SP2 is supposed to fix several bugs/exploits and to increase the security in general.
One new "security features" limits the amount of simultaneous incomplete outbound TCP connection attempts and slows down all connection attempts, as soon as a limit has been reached. Unfortunatly this limit is "hard coded" and cannot be turned off by the user (while worms and other malware can easily patch some system files to avoid beeing affected).
Since eMule tries to connect to many sources within a short time period and a part of those sources are unreachable (for example if an user went offline), it is possible that eMule triggers this limit - especially when downloading files with many sources. This will slow down finding and contacting sources which could lead to a slightly decreased performance in general, however we are still investigating on the excact impact and will try to implement a fix/walk-arround into the next eMule version if necessary.

There is a patch/hack available which turns off this limit by manipulating system files (you can find it by googling for "4226fix"). We have not tested this patch and want to point out that editing system files always poses a risk. Therefore we cannot recommend this patch in general, but for experienced users who suffer slowdowns because of the connection limit this patch could be a solution.
Contest: Anniversary Splashscreen
25.04.2004 10:43 by Admin
---

Soon our little eMule will become two years old and we intend to celebrate this birthday.. at least a bit.
So we thought it would be a neat idea to start a little contest: We search for a nice splashscreen for our "anniversary-edition" (similar to the xmas-editions) and the same for our website. At the end of this week we will let the users vote their favourite.
And the best is: The winner(s) will not only get fame and our eternal thankfulness, no we will hand over one cute eMule T-shirt (or any other item from our shops) as trophy for his deeds.
So don't hesitate any longer. Start up Photoshop, Paint, Geos or whatever tool helps you to live out your creative mind and send your result to `info at emule-project . net`. Of course you can also post it here if you want.

Oh, nearly forgot it, there are a few rules: The image sizes may not be changed and of course eMule should stay on the image (in any outfit). The splashscreen needs to keep some free space for the versionnumber. And you have to allow us to use these images without limitations or fees, so that we can actually implement them into the next version.

You can find more about it here

Your eMule Team
Threat farthered
13.03.2004 6:11 by Ornis
---
23.02.2004:Agreement with Firstway reached

On the 23.02.2004 we were able to negotiate an out-of-court agreement with Firstway Medien GmbH, which avoids an long and expensive lawsuit. Firstway agrees to transfer the trademark ┤eMule┤ to the eMule Developers (emule-project.net) immediately. They also stated that they had no knowledge of the DDoS Attack against our server and will help to reduce the damage as much as possible.

With that we have reached our aim and no eMule developer or webmaster in germany has to fear legal attacks based on the trademark law anymore. We want to thank everyone who has helped us to reach this aim and in particular our attorney Dr. Martin Bahr for the night shifts.

Since we only have to pay our own lawyer, only a small part of the donations were used up. We will give every donor the possibility to choose what should happen with his money, including the option to refund it. If you used PayPal to donate or if you entered a valid email address into our donation form you will receive an email from us with more information within the next two weeks. All other donors will be able to read more about it on this website soon.

Even if we reached primary aim, there are still some legal "battles" ongoing. Gravenreuth deceided to file a lawsuit against the owner of this website, because of offenses which were posted as comments. However since his argumentation is based on wrong facts, we are confident to win those cases without too much trouble.
eMule threatened by trademark grabbing
11.02.2004 7:33 by Admin
---

A german patent lawyer registered the trademark eMule for a dialer related company and is now trying to shutdown or take over major eMule related websites. Since many of our developers as well as many webmasters live in germany we consider this as a serious threat for the community and development.
Therefor we deceided to work together with the first attacked website (emule.de) and go to court with the aim to remove this trademark. However beeing a non-profit project we need your support to accomplish this.
Please visist http://www.freemule.net to view more background information, news and ways to help us.


Your eMule Team


[1] - [2]
.:LatestNews
eMule:
One decade
(more)
---
Releases:
eMule 0.50a released
Dear eMule users, (more)
---
Network:
New eMule IRC Address
Dear Users, (more)